HART Interface Solutions (HIS) from Pepperl+Fuchs consist of two HART Multiplexer systems for multiple signal loops and a HART loop converter for single loop applications. The Multiplexer is used to connect HART field devices to asset management systems like AMS™ Suite: Intelligent Device Manager from Emerson Process Management. At the heart of HART Interface Solutions, the HART Multiplexer acts like a gateway device, routing communication between the maintenance workstation PC and the HART field devices.
It interrogates each HART device, retrieves device information, and stores it in an internal database. This information is made available by the AMS Device Manager or PACTware. The HART Multiplexer also acts as a message coordinator for communication between the maintenance workstation PC and the HART devices. For a single loop solution, the HART Loop Converter allows access to all process variables provided by a field device and transfers them to conventional 4...20 mA loop. This enables it to make use of the hidden measurements done by many field devices and feed them to conventional DCS systems.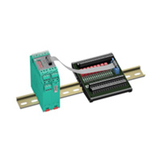 The HIS devices feature the housings of our popular K-System intrinsic safety barriers and can be quickly mounted on DIN rail. This is ideal for flexible upgrading of existing installations without any need for close DCS integration.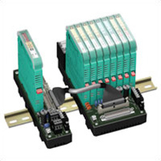 The HIS devices follow the form factor of the termination board mounted H-System intrinsic safety barriers. This system is ideal for applications requiring tight DCS or system integration.